We're so excited to welcome Kamala to Marvel Puzzle Quest. She's been a hit with fans and with the developers here at Demiurge since her first appearance, and we're incredibly proud to be the first video game to feature Marvel's newest Inhuman Avenger. But maybe you've been living under The Thing and you're not familiar with this incredible heroine. Don't worry, MPQ Player... we've got you covered.
Ms. Marvel #1
By G. Willow Wilson & Adrian Alphona
Well, that was easy! Kamala's relatively new to the Marvel Universe, so the best place to start is with the first volume of her very own series. It's some of the best Modern Marvel comics, as Kamala works to balance super-heroing, her family life, her friends and find her footing as a new hero. This is the place to start, and it totally lives up to the hype.
Amazing Spider-Man #7 & 8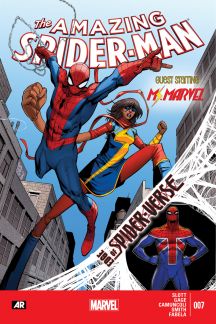 By Dan Slott & Giuseppe Camuncoli
If the description of Ms. Marvel's life sounded familiar, it's because it's got a lot of parallels to Peter Parker himself, the Amazing Spider-Man. It only makes sense that the two would Team-Up at some point, and the results are as fun as you'd expect. This story even features my favorite Kamala moment, where she's star-struck by Spider-Man, but not for the reasons you'd think...
EXTRA CREDIT:
As great as all the Ms. Marvel comics out there are, there's not that many of them yet! If you want to learn a little more about Kamala Khan while you're waiting for the next issue, though, here are some great places to look.
Captain Marvel (2012) #1
By Kelly Sue DeConnick & David Lopez
Kamala took her super-hero name from the incredible Carol Danvers, who's now Captain Marvel. This is a great place to check out the exploits through time and space that inspirted Kamala Khan to become a hero.
Fantastic Four #45 & 46
by Jack Kirby & Stan Lee
Know that Ms. Marvel is an Inhuman, but wondering what the heck an Inhuman is? Check out the first appearance of The Inhumans in The Fantastic Four, and revel in the joy that is Lockjaw, the teleporting Inhuman bulldog.
Now that you're an expert on Ms. Marvel I hope you get even more joy out of recruiting and fighting with her in Marvel Puzzle Quest! See you back here in two weeks for another post when
---
---