Marvel Puzzle Players, I am so excited to bring another old-school Avenger to our Rosters. This time around it's Quicksilver, the master of speed! Quicksilver's been around for as long as any character in the Marvel Universe (his first appearance was as a villain in 1964!), but he didn't get a chance to shine until Captain America added him to the ranks of Earth's Mightiest Heroes. If you're not familiar with this snooty speedster, here are some great stories to give you some insight into exactly what makes him so cool.
Quicksilver's heroic debut! Captain America adds him to the ranks of the Avengers, and he was among the first new members added to the team since Captain America! If you want old-school Avengers stories with Quicksilver, there's years and years of them, and this is the place to start.
| | |
| --- | --- |
| | |
| | |
| By Roy Thomas & Rich Buckler | By Roy Thomas & Ross Andru |
One of the most interesting things about Quicksilver is how many corners of the Marvel Universe he touches. In this pair of issues, we see how he fell in love with Crystal, one of the Inhumans! Injured by a Sentinel in a battle with the Avengers, Crystal nurses him back to health, which leads to a battle for her heart between Quicksilver and Johnny Storm. Quicksilver bounces around a little bit with the Inhumans and the Fantastic Four, but eventually returns to the Avengers.
By Kurt Busiek & George Pérez
This is the start of one of my very favorite runs of Avengers comics. Modern but still classic, Busiek & Pérez assemble the largest team of Avengers to date, including Quicksilver and his now-wife Crystal. Lesser characters might get lost in the shuffle of such a large team, but Quicksilver's personality shines through the entire run, even getting to show off some of his speed in the very first issue.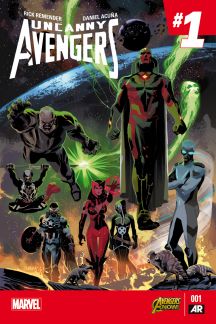 By Rick Remender & Daniel Acuna
Finally, we have Quicksilver's current home in Uncanny Avengers, where he's teamed up with a motley crew of Avengers and other Marvel heroes to get to the bottom of his origins. This series just started, so there's still a lot of mystery, but there's no better place in the Marvel Universe if you want to see Quicksilver today.
Thanks for reading! See you back here soon to show off some great comics about our next character!
---
---