Marvel Puzzle Players, I do not mind telling you that I am hype as heck for the new Daredevil series coming to Netflix. Daredevil has been one of my favorite heroes since I started reading comic books, and Wilson Fisk aka The Kingpin is his greatest enemy. Most of the greatest Daredevil stories are also great Kingpin stories, as while Bullseye or The Owl can physically hurt Daredevil when he's in costume, the Kingpin has an incredible talent for hurting Matt Murdock when his mask is off. Combining a cunning, merciless intellect and an impossibly strong physique, Kingpin is one of the intimidating villains in Marvel Comics. Here are some stories that show that off.
The Amazing Spider-Man (1963) #50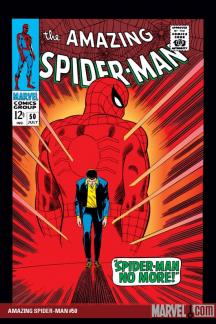 By Sam Rosen and Mike Esposito
Even though Kingpin is known for terrorizing Matt Murdock and the inhabitants of Hell's Kitchen, he started as a foe for the Amazing Spider-Man! This is the Kingpin's first appearance, before he became the machiavellian mastermind that ruled New York with an iron fist, and was more of just a terrifying mob boss. A great place to start.
Daredevil (1963) #170
By Frank Miller and Klaus Janson
There's so much that Frank Miller's run on Daredevil brought to the character, from supporting characters to recurring themes, but nothing has had such a lasting impact on the entire Marvel Universe as introducing this more sinister, less cartoonish version of The Kingpin. This is the start of his rivalry with Daredevil, and a great place to get started.
"Born Again" - Daredevil (1963) #227
by Frank Miller and David Mazzucchelli
When Frank Miller eventually returned to Daredevil after his legendary run, he did it with a bang. A super villain in a comic book had never been as ruthless as the Kingpin behaves in this title - dismantling Daredevil's life piece by piece and pushing him to the breaking point. This arc, called "Born Again" only lasts 6 issues but in a lot of ways is the story that defines the Kingpin to this day.
"The Murdock Papers" - Daredevil (1998) #76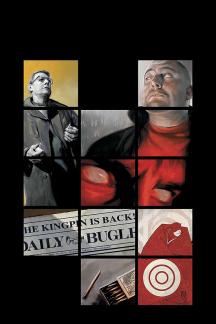 by Brian Michael Bendis & Alex Maleev
The finale of Brian Bendis and Alex Maleev's incredible run on Daredevil (probably my favorite comic book of all time), this story is a masterwork of Wilson Fisk manipulation. Even though the action in the book focuses entirely on Daredevil, Kingpin pulls everyone's strings, forcing them into impossible situations where they have no choice but to do what he needs.
"Return of the King" - Daredevil (1998) #116
By Ed Brubaker and Michael Lark
After the events of The Murdock Papers and the rest of Ed Brubaker's run on Daredevil, Kingpin has been removed from organized crime and is hiding overseas. But after the shocking events at the start of this story, he comes back to America, and brings horrible vengeance with him.
Hopefully with these stories you'll be appropriately afraid of Wilson Fisk and ready to unleash his wrath on your opponents in Marvel Puzzle Quest. Happy reading, and see you back here for our next character release!
---
---